St. Mark's Hupalo & Repasky Pipe Organ
The Hupalo & Repasky pipe organ is a high-quality organ that enhances the traditional Sunday worship experience at St. Mark's. The presence of this organ on the church campus positions St. Mark's as an ideal location for accomplished musicians, as well as for instrumental and choral performances
History & Background
St. Mark's celebrated its 50th Anniversary in October 2001. As part of that celebration, about 257 members and friends contributed the funds to build the organ, bringing to fruition a long-term dream for the congregation.
On Super Bowl Sunday in February of 2001 most of the funds were raised in the two Sunday morning worship services in which then pastor Don Fado's thought-provoking sermon underlined the importance of continuing centuries-old traditions along side new traditions, and investing in lasting works of art, such as a pipe organ, as living legacies of our faith.
After extensive investigation into purchasing a used pipe organ as a possible solution, it was decided that purchasing two large collections of pipes and several additional sets from other sources along with some mechanical components was to be the best solution for providing most of the pipework and some mechanicals. Electric slider chests (3) were designated and built by P. & S. in England, a new 4-stop reed chest for the Recit and six new stops were built in the Hupalo shop, used offset and pedal chests were rebuilt, a computerized control system for the console & pipe drivers was designed and built by Classic Organ Works in Canada, a three-manual console was purchased and totally restyled and gutted of all mechanicals except the keyboards and pedalboard and fitted with new components.
From the beginning there was a vision for an instrument of unique qualities patterned after the much admired Cavaille-Coll instruments found in many churches in France. This meant that all the used flue pipe work had to be modified to take on a French sound. Much research was done by John Hupalo which included a visit to Paris to play and inspect an unrestored Cavaille-Coll organ in January of 2003. Jack D. Miller, organist, worked with the Organ Task Force and the Organ Installation Committee and acted as liason between the church and John Hupalo. He attended the Westfield Seminar at Oberlin College in the summer of 2002 to gain a first-hand experience of the Cavaille-Coll style organ installed by Fisk. All this work helped solidify the goal to build an instrument in the symphonic style.
While various components of the organ were being designed and built in San Leandro, England, and Canada, the Installation Committee performed a long list of alterations to the chancel areas where the organ was to be placed. This direct involvement not only saved the church thousands of dollars, but increased the anticipation of the new instrument's arrival.
The organ is installed in four shallow chambers on the two sides of the chancel totaling 380 square feet in area. The Grand Orgue and the Pedale are on opposite sides and closest to the nave, while the Positif and Recit are on opposite sides near the altar. All pipework is installed on one level to assist in tuning stability and access. Four stops are displayed – the pedal 16/8′ Violon basse and 4′ Octave on the right – the Grand orgue 16′ Montre and 8′ Montre on the left.
The organ consists of 47 ranks, 2835 pipes; the console has 99 levels of registration memory, 8 divisional pistons, 12 general pistons, and velocity sensitive keyboards for the MIDI interface system.
One stop originally not installed but later (2008) when funds were available was the V Cornet (Grand Orgue) comprising 245 pipes. The Positif 2 2/3 Nazard was also changed to 1 1/3 Larigot. This means the organ now has 3080 pipes and 52 ranks of pipes.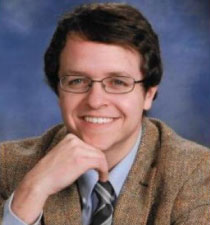 Our Current Organist
Robert Rouch
A native of Columbus, Ohio, Robert Rouch studied Organ Performance at Ball State University under Kirby Koriath and Raul Prieto Rameriz.
Robert has served as church organist at New Castle First Presbyterian, Grace Lutheran, and High Street United Methodist. Additional studies have included master classes in Barcelona, Spain with Ulrich Walter, Konstantin Volostnov, Ludger Lohman, Thomas Trotter, and Jane Parker Smith. Robert placed first by audience vote at the IV International d' Orgue de Mataró-Barcelona Competition.
Robert Rouch joined St. Mark's in November of 2016