Markings
Published by St. Mark's United Methodist Church
March 1, 2020 | Volume 72, Number 4
Re:Mark's Past
The week ahead is Holy Week. Holy Week 2020 will probably feel quite different from any other Holy Week you have experienced. The pandemic is a powerful metaphor for the sinfulness that so easily can possess the human community. As a spiritual antidote to the various viruses that can afflict you, I invite you each day to take some time alone and read again some of the key elements of that final week before the crucifixion of Jesus. You may wish to do the quiet mediation, counting your breaths and/or, you may wish to write down a list of individuals or categories of people for whom you want to pray. Take time to read, to reflect, to breathe and to pray.
MONDAY: Read about the opposition to Jesus and the story of Judas. 
     Luke 19:41-48
Do you think Jesus might weep over Sacramento? If so, why? How do you think Jesus would view the kind of church we have? What might make him angry and what might he work to change?
TUESDAY: Read about Jesus weeping and getting angry.
     Luke 22:1-6
What do you think was going on in the minds and hearts of all those who could not hear the message of justice, peace, and compassion that Jesus preached? Are there times when you find yourself falling short of supporting the teaching of Jesus and the life he taught us to lead?
WEDNESDAY: Jumping ahead in the story, read about Jesus' experience in the Garden of Gethsemane
     Luke 22:39-46
What do you think was going through Jesus' mind during this event? What might the angel have said to him? And why did the disciples sleep? Did they not understand or was it a defense mechanism?
MAUNDY THURSDAY: The story of the Last Supper, including the great commandment
     John 13:12-20
There is a powerful intimacy in washing somebody's feet… what exactly do you think Jesus was teaching to his friends? Is this something you need to hear from Jesus?
GOOD FRIDAY: Jesus is tortured and put to death
     John 19:1-30
Each gospel has a Good Friday story, and each is a little different. What does this story teach you? How does it change the way you live? What do you think was completed in verse 30?  
 
If you would like a reading for Holy Saturday… read about the burial of Jesus in John 19:38-42, and on Easter Day you might read John chapter 20.
May Holy Week 2020 be truly a holy week for you.
Reflections
from Pastor Alan Jones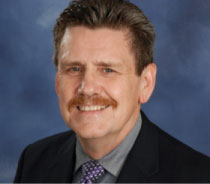 Community Healh
by Pam Taylor, R.N.
Faith Community Nurse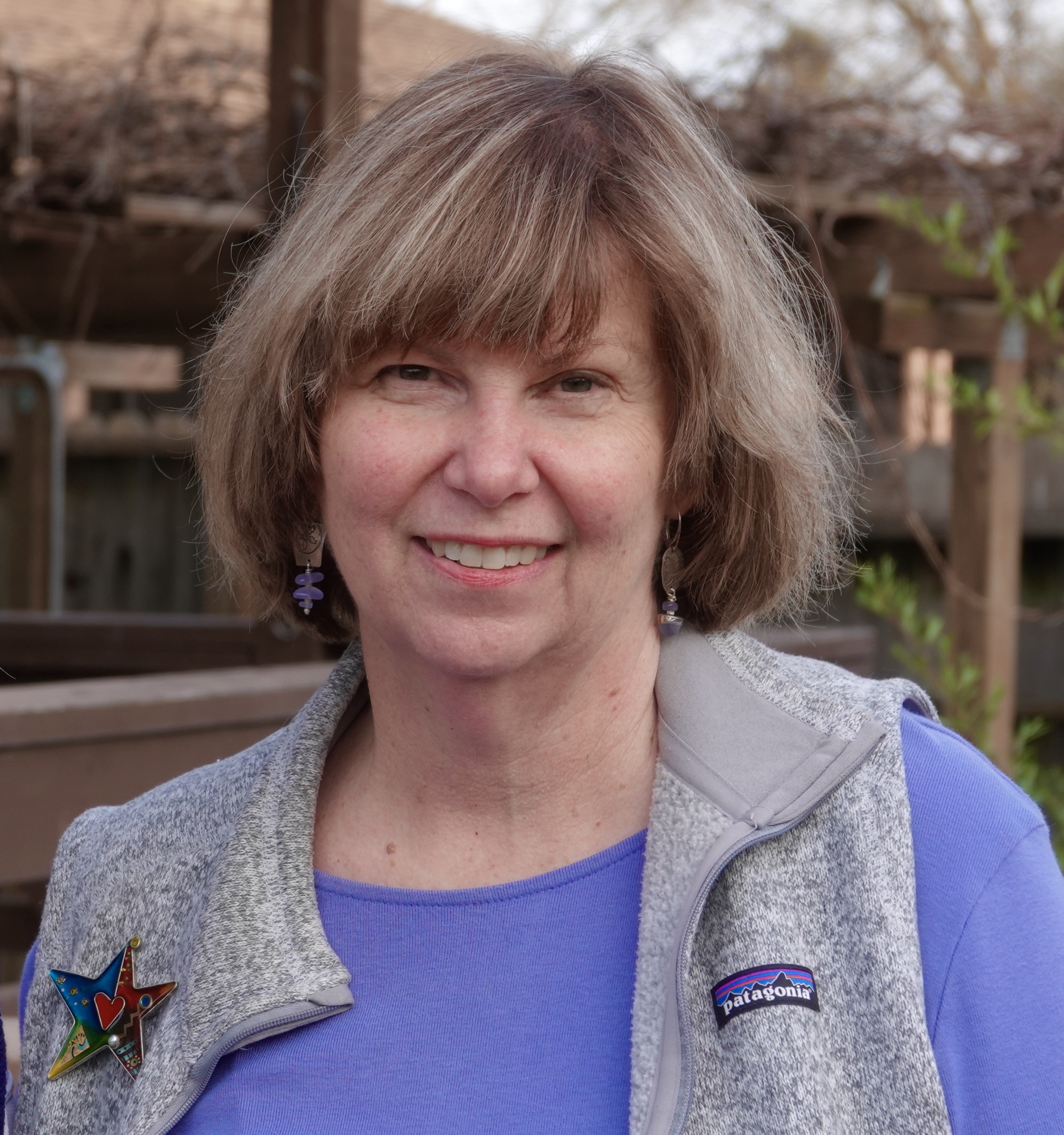 More on Corona Virus
It seems like the only possible article I could share with you this month has to do with the current health concern in our community and beyond – Coronavirus.  Then this "tip sheet" came to me in an email.  It seemed like some excellent health-related advice that I haven't seen elsewhere.

By the time you read this, it's difficult to predict how things may have changed.  Keep informed and take good care of yourself.  Continue to find ways to enjoy each day and to find peace.

Coronavirus and older adults: What to know and how to prepare
People ages 60 and up are at higher risk of novel coronavirus infection. Symptoms include fever, dry cough and difficulty breathing, and it's primarily spread between people. Here's how older adults can prepare and protect themselves from the novel coronavirus. This guidance comes from the Centers for Disease Control and Prevention and Drs. Carla Perissinotto and Samir Sinha, both geriatricians.

Note: Recommendations for Covid-19 may change as officials learn more, so monitor your local health department and the CDC for updates. By Scottie Andrew, CNN

Take precautions
•    Cancel non-essential doctor's appointments
•    Schedule telehealth sessions for appointments you can't miss
•    Designate an emergency contact
•    Wash your hands frequently (scrub for 20 seconds with soap and water)
•    Use hand sanitizer when soap isn't available
Stock up
•    Make sure you have enough groceries and household products to last you a "prolonged period of time" at home
•    Prescription medication may be difficult to get ahead of time, so consider mail ordering
Travel
•    Avoid nonessential plane travel
•    Don't go on a cruise —— cruise ship passengers are at a higher risk of infection
Life
•    Stay at home as much as possible if you live in an area where there's an outbreak
•    In public, avoid crowds and poorly ventilated buildings
•    Keep several feet of distance from people
•    Wash your hands with soap after going in public
•    If you need to isolate, keep in touch with family and friends
Nursing homes
•    Most long-term care facilities have pandemic plans
•    Call facility staff for information on their plan
•    If you're sick, do not visit a nursing home
•    If you're visiting a nursing home in an outbreak area, get screened before entering
•    Figure out an alternative mode of communication if a nursing home bans visitors
If you think you're sick
•    Call your doctor before going in for a test
•    Don't use public transportation and stay at home as much as possible
•    Call a local coronavirus hotline for more information
Digital Connections with the St. Mark's Community
by Abby Jaske
My name is Abby Jaske and you may have seen me around St. Mark's. Although the phrase "Social Distancing" is the most popular phrase used today, that isn't really what everyone is being asked to do during this COVID-19 pandemic. "Physical Distancing" is a better descriptor, because, although everyone can't physically be with other people, everyone should still make the effort to interact on a social level. There are many ways to build a community without being physically together that churches are well acquainted with, such as phone trees and letter writing. I know for a fact that these tried-and-true methods have already made a difference in the lives of St. Mark's community during this crisis. I would like to suggest Facebook as an added method of building a community. In fact, St. Mark's already has a vibrant Facebook group where many of the community from near and far connect. The classic "Social Network" site is a great way to quickly check-in with a friend, ask for a prayer, or give a word of encouragement. At the purest level, Facebook is a great tool for connection and it can help to remind you that you are part of a larger community all in this together.
To find the St. Mark's Facebook Group, search St. Mark's UMC Community on Facebook. It classified on Facebook as a "Public Group" and should look like the attached picture. You should see many smiling faces that you recognize already there, welcoming you to join.
Need help? Don't have a Facebook account? Please reach out, and I can walk you through the simple process.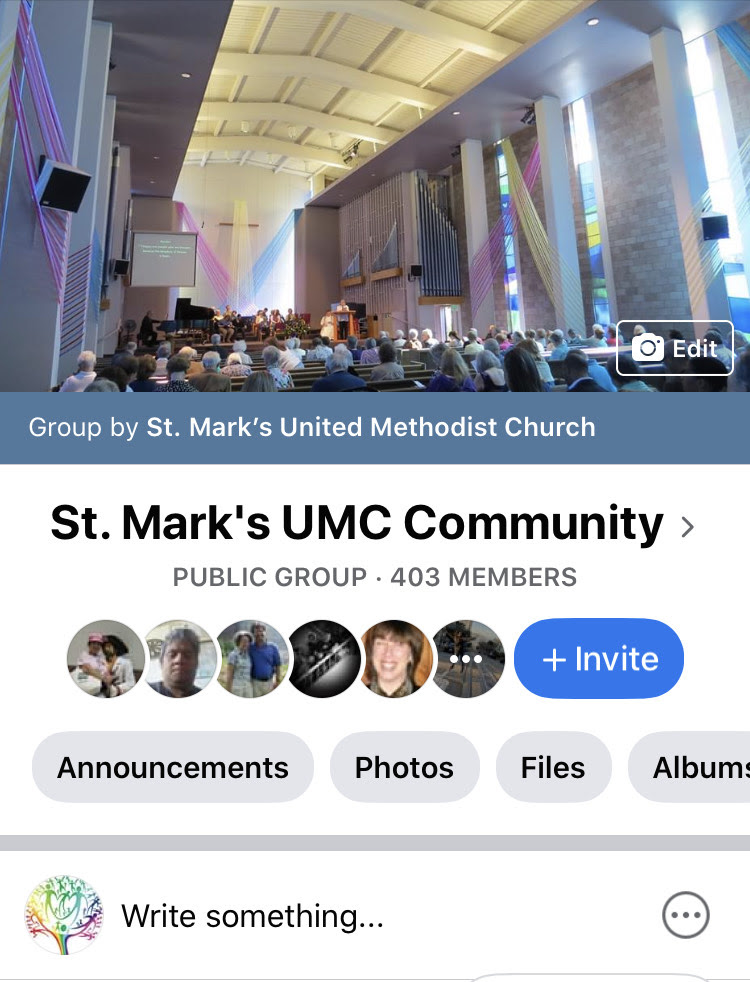 Please view the tutorial of how to join the
St. Mark's Facebook group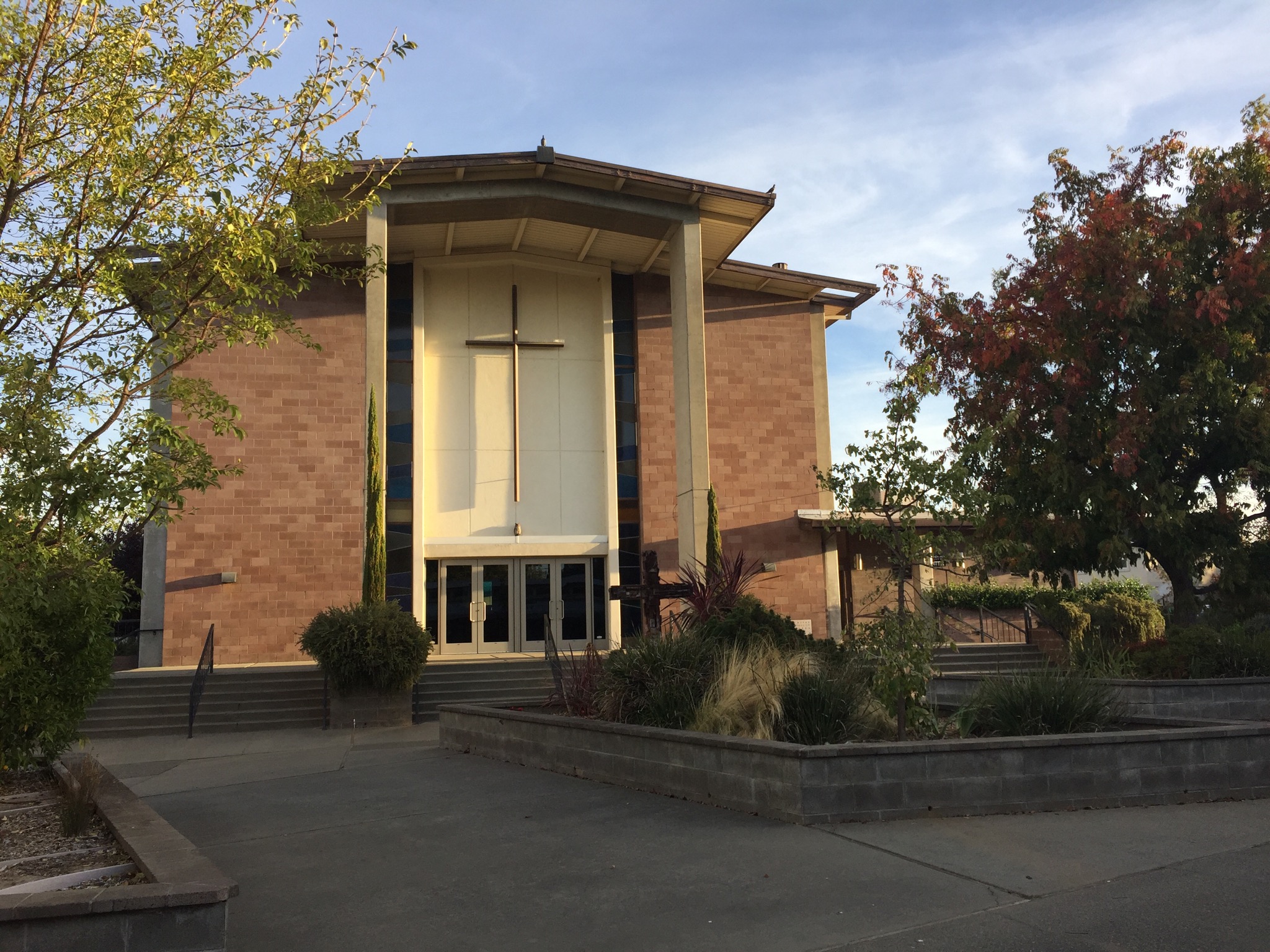 Staff Parish Relations Update

by Ginny Romero
St. Mark's staff continues to work hard and are helping the ministries of St. Mark's going forward during this world pandemic. They are putting in long hours to provide new ways to offer ministry.   For a long time St. Mark's has been talking about wanting to go digital, and now we are doing it. See what the staff has been up to:
Alan Jones is busier than ever responding to phone calls, emails, texts, Zoom meetings, producing videos at least three times a week, responding to health crises in new ways since he can't visit in person, writing a different kind of sermon for the videos… He is leading Confirmation and church meetings via Zoom. Alan still goes to the office a couple of times a week to check phone messages and to make sure the checks mailed in are locked up until they can be deposited. He told me he needs 10 more hours in each day!
Cath Fenimore-Brown has organized 47 (and counting) congregants to call at least 5 assigned people every week. Everyone in St. Mark's should be getting a call. Then she responds to each caller as they report what they have found out.  Cath also is in contact with the music groups: St. Mark's Choir, the Bell Choir, and the Worship Musicians.  Cath is contributing to the worship planning, and helping provide music for some of the videos Alan produces.
Irene Celedon continues her administrative work remotely. She is spending hours piecing the videos together that everyone enjoys. She continues to produce the Markings, which in April is digital. Irene is a very busy Administrator.
Denise Cruz works remotely and some time in the office, continuing to pay bills and keep the finances of St. Mark's current. She has taken on extra duties that some of the volunteers normally do regarding finances, but aren't able to come in and do.
Robert Rouch is providing everyone with his awesome music through videos. He works his "day job" remotely at home and then comes to church to practice in the evenings so he can provide St. Mark's with music to uplift our spirits.
Elizabeth Cruz, the new Facilities Coordinator/Head Custodian has jumped in head-first learning about how St. Mark's functions.  She started March 2 and has done so much already. The campus is getting a thorough cleaning/disinfecting between her and Adrian. She has been great about asking questions and forging ahead during these tough times. You are going to love her. She and Adrian are doing more cleaning out and organizing of areas on the campus.  Elizabeth is on campus 4 days a week.
Adrian Nelson is working diligently on cleaning every room on campus.  He truly loves to clean, and St. Mark's appreciates that! You should see his smile!  Once he cleans, things stay clean since no one is on campus! His presence on campus 5 days a week seems to be helping greatly minimize the number of people camping out and doing vandalism to the campus.
Pam Taylor continues her Faith Community Nurse involvement. She is answering phone calls and is available for health questions. She is a calming, reassuring voice amongst the stress.
Tina Coutee is working at home with her school district.  She is very involved in the Union and helping make decisions happen for the teachers and children.  As we aren't able to have church, she is not in the nursery! Her attitude is very upbeat.
Marilyn Erickson is a chaplain at Mercy San Juan Hospital. She has also volunteered to take on some of the Pastoral Care to help Pastor Alan. She is taking some of the stress off of Alan.
So, as you can see, the staff is all very involved in doing the work of St. Mark's.  How are you involved?  Are you contacting people to make sure they hear a friendly voice or receive a card? Are you helping the Food Closet by making a financial donation?  The church is very much alive. We all ARE the church.  Let's all do our part in contributing our time, talents, and finances.
Meet:
Elizabeth Cruz
Facilities Coordinator & Head Custodian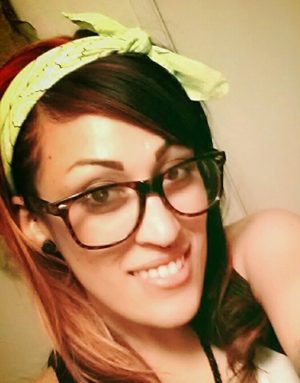 Elizabeth moved to Sacramento from the bay area in 2020. She enjoys bike rides, racquetball, basketball, spending time with her pug and kitty, and she hopes to practice becoming a magician as a hobby.
Elizabeth oversees and manages the upkeep of St. Mark's campus facilities. Her responsibilities include care, maintenance and preservation of four building structures, two parking lots, a memorial garden, dedicated playground space and surrounding land and hardscapes.
She manages booking the calendar, coordinated use of space and on-campus resources for meetings, events, and functions by church ministry teams and community groups.
Elizabeth provides leadership to facilities and her team member. This team performs:
General housekeeping functions
Facilities maintenance and repairs
Event set-up and tear-town
Facilities supply ordering and purchasing
Other related tasks
Facilities Update
by Elizabeth Cruz
Adrian and Elizabeth are disinfecting, reorganizing and cleaning every area of campus. With no one on campus, they have this advantage! Elizabeth has organized where the disability equipment was piled up in a corner, downstairs in the Education Building. Elizabeth would really like to get the word out that St. Mark's has a ton of equipment to rent out. It's all been verified that it fully functions and has been disinfected for use. If you have disability equipment please contact Elizabeth at ecruz@stmarksumc.com to donate.
Elizabeth has spoken to an independent photographer that is going to take pictures totally free of charge of McMurdo Hall, Grace Cafe, and classroom setups so St. Mark's can better promote the campus once the quarantine is over! Elizabeth would really like to get more outside groups involved in renting the facilities.
St. Mark's has had very good luck not having vandalism, break-ins or loitering.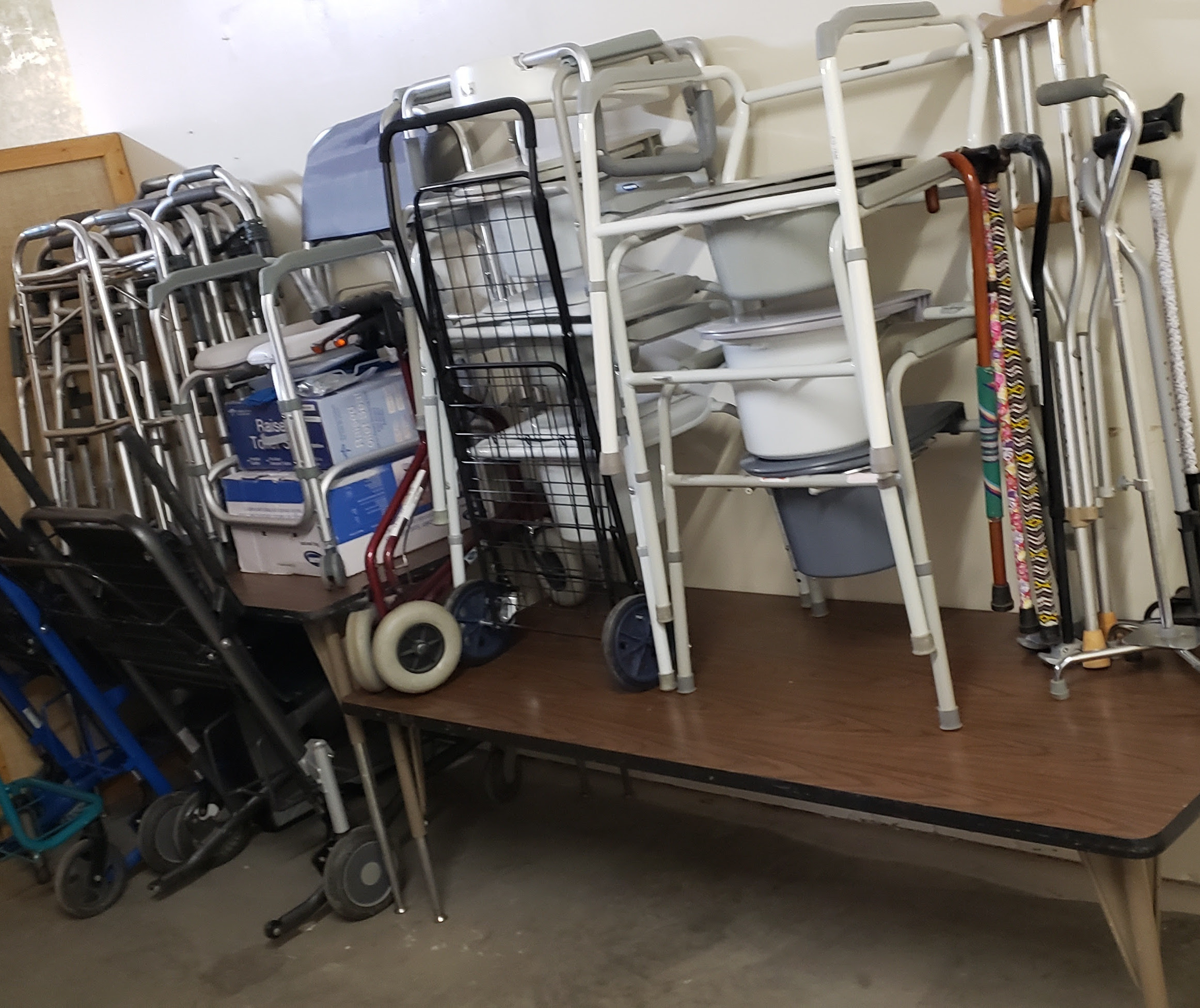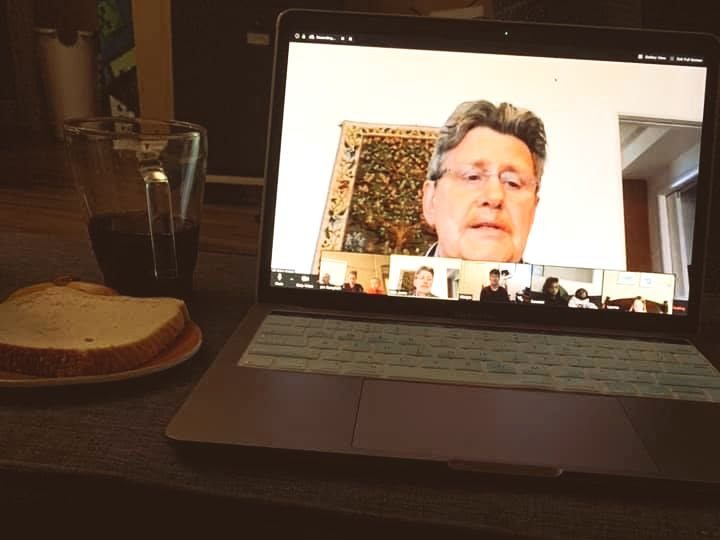 Youth Group

by Jen Banghart
Despite the spread of and subsequent quarantine related to Covid-19, the youth of St. Mark's UMC are going strong.  The youth confirmands have been meeting regularly via Zoom, even partaking in Communion with Pastor Alan and their mentors.  A few of the group members have played Bible trivia using the popular app Kahoot and will even be meeting up virtually as a youth group beginning this week.
They have all kept in touch by checking in on text messaging, emails, phone calls, and Facebook.  The youth have also been invited to stay engaged in the many ministries of the church including packing to-go meals for community breakfast and participate in recorded services as liturgists.
Although these times are tough, I can not begin to express how proud I am of these young people.  I am blessed beyond words to be a part of this amazing community.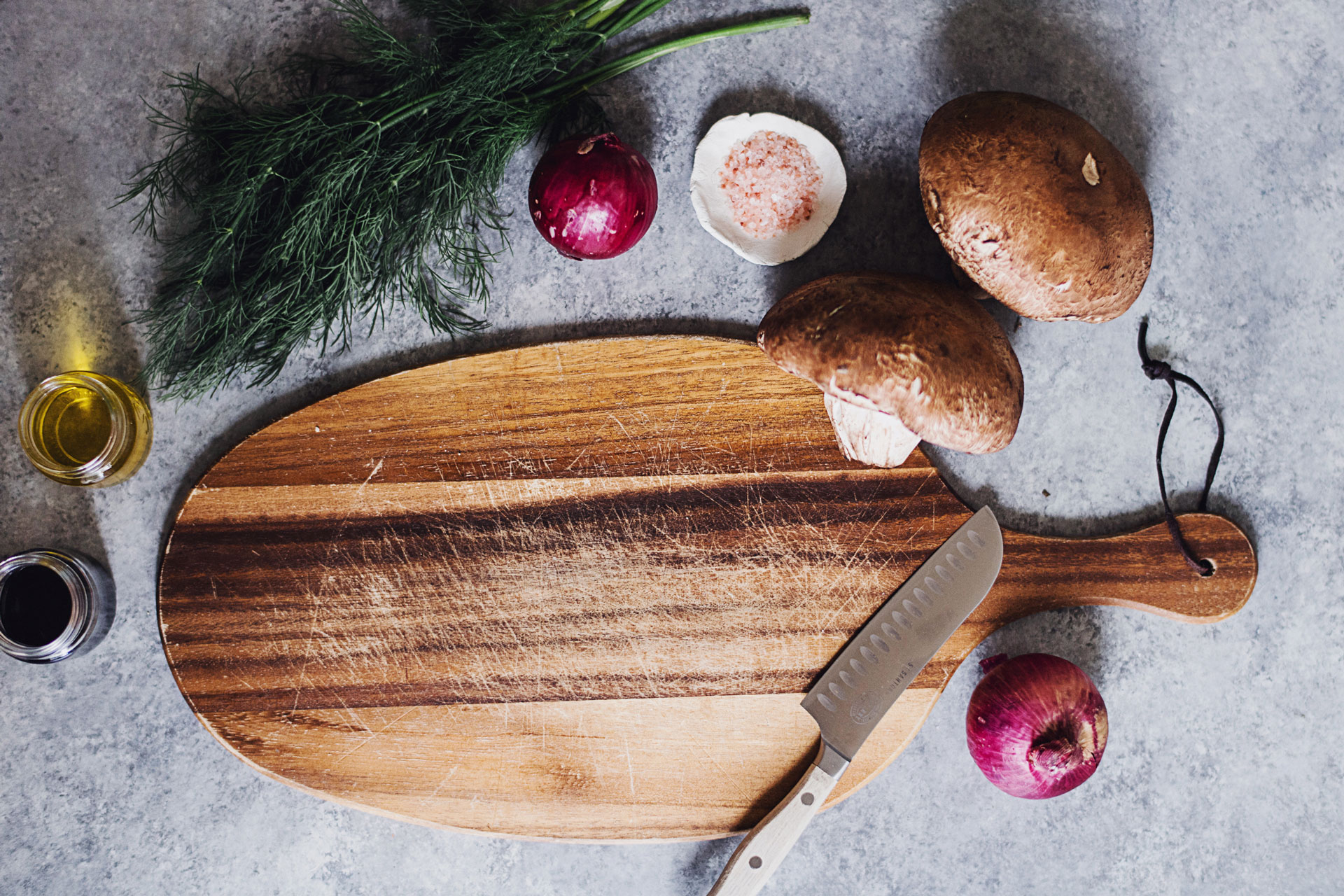 St. Mark's Food Closet: Staying the course!

by Jane Henderson
Unfortunately, the COVID-19 outbreak does not mean that people are no longer hungry.  In fact, just the opposite is true!  Due to layoffs and shutdowns, more people find themselves in need of help for themselves and their families.  The St. Mark's Food Closet considers itself an essential service for the community and is dedicated to continuing its work as long as possible.  Approximately 16 – 20 families and individuals (a total of 35 – 50 people) are helped each Tuesday and Saturday at the Food Closet.
Modifications have been made to ensure the safest conditions for distributing food.   All food is pre-bagged and handed out in the breezeway between the library and elevator.  Guests are not allowed downstairs.  Instead, they remain 6 feet back while perishable foods are added to their bags.  Tables are wiped down regularly with bleach and sanitized wipes.  Liquid sanitizer is available and used by volunteers after each guest.   Distribution time has been shortened to 1 hour: 10:00am to 11:00am.
Because of the maturity of most Food Closet volunteers, most workers have been unable to help the past several weeks.  A few younger members and constituents of the church have stepped forward to help out.  Thank you to Julie Strathdee and Jillian (Weinland) Jackson and her husband for their generous gift of time while helping at the Food Closet.
Help continues to be needed in the form of donations.  If you are not comfortable purchasing and delivering food, monetary donations can be made through the church website.  If you have questions on how to do that, contact Jane Henderson (peeweepride@comcast.net or 916.515.9382)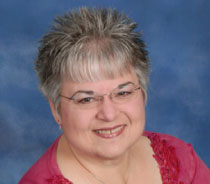 Keeping in Touch during COVID 19

by Cath Fenimore-Brown,
Calling Team Coordinator
On March 17, St. Mark's staff met to discuss what church would look like during the COVID 19 restrictions.  As everyone sat in Wesley Hall, separated by the 6-foot guideline, lots of topics and ideas were discussed.  One of the main concerns was finding ways to keep alive the sense of community we share.  At the top of the list was the importance was regular contact with each family in the St. Mark's community.  I offered to organize a team of callers to contact each family in the community every week.  The goal was to let folks know that the church cares about them and to check to see who might need help or supplies.  Present leaders in the congregation were contacted, along with others who might be available, to keep in contact with five families. United Methodist Women (UMW) group leaders were also contacted. There were over 300 families to call.  Presently, 47 people are making calls, in addition to the UMW leaders.  I have been keeping in touch with the callers each week, getting individual reports about calls and connecting with the callers as well.  Some callers have found out about health needs, others collect prayer requests, and others learn of interesting hobbies or shared pastimes. Some callers have only been able to leave messages, but do so knowing they reached out to one in the congregation.
In addition to having positive conversations and times of fellowship, making these calls has helped to update current church records.  Phone numbers have been disconnected, and email addresses are no longer active.  Callers who find that both phone and email are incorrect are sending a note to check for the right information.  As information is reported, the database is being updated.  The next church address directory will be more accurate because of this.
Many are expressing gratitude for Pastor Alan's video emails each week.  They are a wonderful source of encouragement and a touchpoint with people in the congregation.  His contacts through the videos and these contacts made by the Calling Team are helping to keep us all connected.  As we navigate the weeks ahead, this Calling Team will continue to check in on families. My prayer is that when we come back together to share in the worship service, the fellowship will be even sweeter because of new and strengthened bonds made through the calls.
There are still a few families who need to be called, especially the callers.  If you're interested in making calls, please contact me at cbrown@stmarksumc.com.  May God bless you and give you peace and health.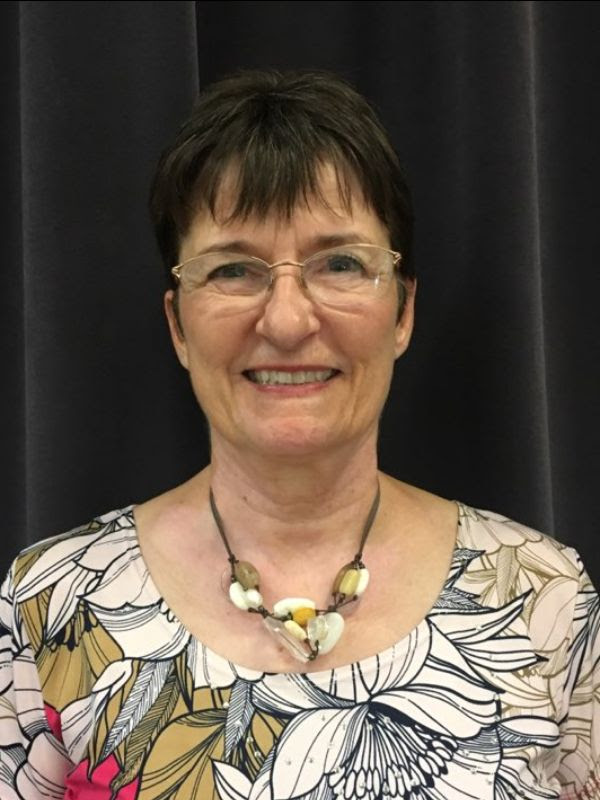 Rocks & Rubies
by Margie Shunk, Children's Ministries
Jen Banghart introduced me to Rocks and Rubies during a recent  Confirmation Class gathering that was held online through Zoom.  Now that the youth have been home from school and pretty much limited to being inside, the following question was posed to them, "What has been hard for them (Rocks) and what have they found to be high points (Rubies).  I called some of our younger children to get their responses too.  There was a lot of agreement. The ROCKS were: dislike staying inside, miss connecting with my friends, don't get to go outside as often and my Nana's dog died.  The RUBIES were: spending more time with my brothers, spending more time with mom and dad, catching up on sleep, calling friends to say Hi, not having to go to school, and getting to play computer games.  So I ask you, "What has been your  Rocks and Rubies?"
Take care and stay healthy!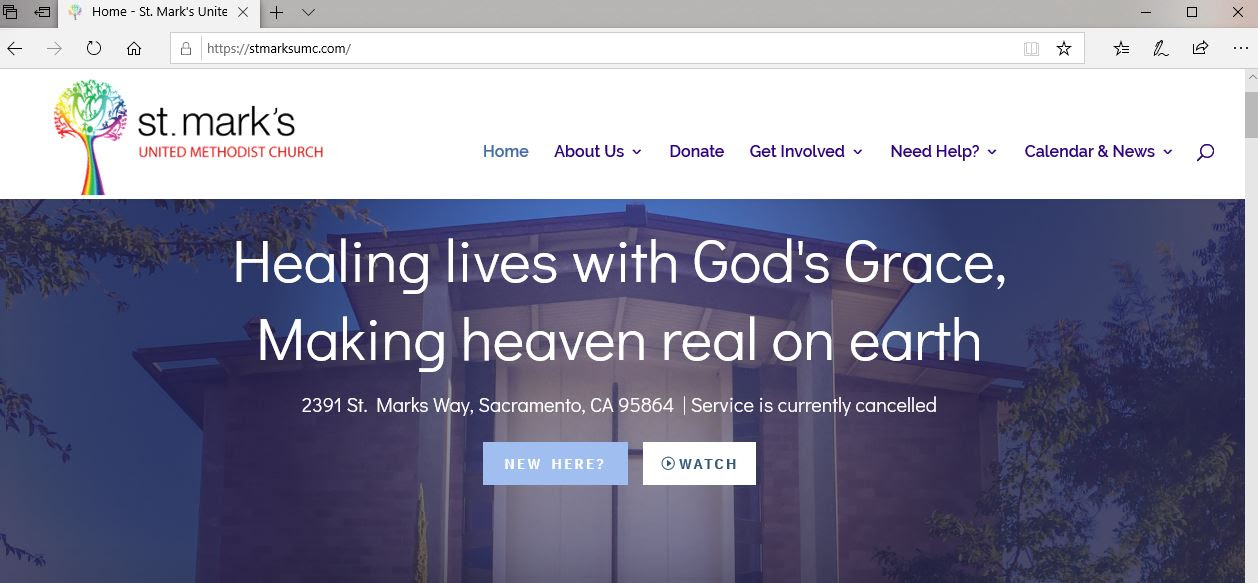 Redesigning the Church Website and Building an Online Presence
by Amelia Romero
First, to introduce myself. My name is Amelia, I am Ginny Romero's daughter and Iola Halligan's granddaughter. (I like to introduce myself like that because my matriarchs are so well known in this community.) For the last year, I have been working with the worship arts team, designing art for Pastor Alan's sermon series and decorating the sanctuary. It has been a wonderful creative outlet to figure out ways to fill the massive space of the sanctuary and work with a fun group of people to design art for all the seasons and series throughout the year.
I started volunteering in the church office at the beginning of this year, and while working with Irene, we started discussing the church website and how to grow the church's online presence. We decided the website's design needed to be modernized and more user friendly. I have a little experience with web design, but nothing like this! Thankfully, Irene, Pastor Alan and the communication team had faith in my abilities, and were gracious enough to let me learn on the job. Irene really championed me and I can't thank her enough for her support.
Irene and I were initially going to take a more drawn out approach to launching the new website, but with the quarantine, we decided this was the time to make a big change. So in about a week's time, I redesigned the majority of the website. Page by page, we have transformed the look and usability of the website. I am so proud of how it turned out!
The website is about 90% done with the overhaul, but there are many areas Irene and I want to expand on what was already there. Here is where I want to reach out to you, the St. Mark's community. I want to add a lot more information about who St. Mark's is as a community, what St. Mark's means to all, and why St. Mark's should be the church for new people who come to the website to learn more about us.
If you can, please take the time to answer the questions below, and send them to me at ameliaromeroart@gmail.com
1.      What does St. Mark's mean to you?
2.      Why have you chosen St. Mark's as your church/community?
3.      If you were explaining St. Mark's as a church and as a community, how would you describe it?
Also, If you are a leader of one of the many groups/programs offered at St. Marks, let's update your group's page on the website and add more detail about your group/program and what your group/program offers new people who want to get involved.
Finally, are you on social media (Facebook, Instagram, YouTube)? Please follow St. Mark's on these platforms if you are not already, and when St. Mark's post, please "like" the post. The more community engagement St. Mark's gets, the more these platforms promote the posts beyond our current members.
This quarantine has shown that the online arena opens up a world of possibilities to stay connected and to build new connections. I believe in St. Mark's and all that we are as a community. I want to help other people become part of St. Mark's community and I believe building an online presence is a powerful way to do that. Thank you for any way you can help with this endeavor.